The Events Calendar WordPress Plugin Alternative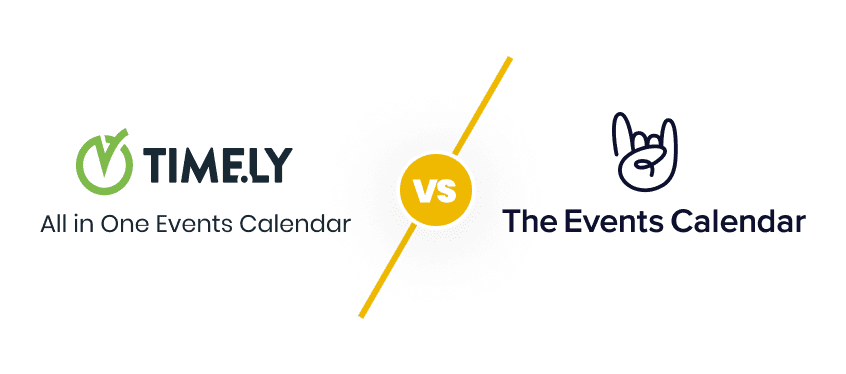 Timely Events Calendar vs. The Events Calendar (TEC)
WordPress is, without a doubt, one of the most used content management systems (CMS) out there. WordPress' main advantage is that it allows you to use plugins to enrich your website and make it functional in a large variety of ways. If you are currently using WordPress and a WordPress event calendar plugin, this post will be particularly interesting to you.
We will guide you through a detailed comparison to help you select the best WordPress calendar plugin for your needs. As you already know, having an events calendar WordPress plugin helps you manage and publish events on your website. Some of these plugins offer a lot of useful features such as event promotion, registration, ticketing and calendar customization.
In this article, we will compare the free versions of Timely All-in-One Events Calendar and The Events Calendar plugins for WordPress. Both are very popular plugins, but each one has their own distinct functions and possibilities, which is what we will cover next.
Timely versus The Events Calendar: At a Glance
Timely All-in-One Events Calendar
4.2
Based on WordPress users reviews
Feature Rich
Secure
Scalable
Download Now
Calendar Design
Beautiful and modern design
Variety of calendar views and widgets
Preset themes plus customization tools
Responsive design
Key Features
Cloning and recurring events
Filters for easy event categorization
Built-in toolbar for advanced search
Import events with CSV/ICS files
Event promotion tools
Usability
No coding or web design skills required
Intuitive and easy to use
Fast loading
Accessible
The Events Calendar
4.3
Based on WordPress users reviews
Calendar Design
Modern and simple design
Variety of calendar views but 1 widget
Customization based on site's theme
Key Features
No duplicating nor recurring events
No event organization by filters
Keyword search only
No import events tools
Limited event promotion tools
Usability
Coding and web design skills required
Complex to use
May slow down your website
Accessible
1. Product Fit & Free Features

Timely All-in-One Events Calendar

The free version of Timely wordpress event calendar combines a beautiful and modern design with powerful event calendaring features.
It offers a wide variety of views and widgets, including Month, Week, and Agenda. In addition, it comes with several preset themes that you can easily customize to match your brand and website design. All calendar and page details options are responsive, so your calendar design will adapt to any device.
Timely wordpress calendar plugin allows you to create, clone, import, edit, schedule, and publish events with just a few clicks. It also includes recurring events, so you can easily create and update events that happen on a regular basis. Another useful feature is the categorization of events by filters.
Moreover, Timely all in one calendar has a built-in toolbar, which allows your audience to search events by date and keywords, as well as by using the applicable filters.
The free version of Timely wordpress events calendar also comes with event engagement tools to keep your audience engaged throughout their event discovery experience. Those interactive features include calendar subscription for Google, Apple and Outlook calendars, social share buttons for all the major social networks, and calendar print ready version.
Importantly, Timely wordpress calendar does not require any coding or web design skills, so it is super easy to use. It loads fast and is accessible for people with disabilities, two very relevant factors for ranking higher on online searches.
The Events Calendar

Although The Events Calendar is one of the most popular calendars for wordpress, it only offers basic features for those who are looking for a plain online calendar.
With this plugin, it is possible to display events on a month, list or day view, as well as on an event list widget. You can personalize your calendar, but customization is limited to your website's theme.
The Events Calendar allows you to create and publish events. However, you will not be able to duplicate them neither create recurring events.
This free calendar version comes with date and keyword search tools, but no filtering options. Also, it allows the audience to subscribe to the calendar, but has no social sharing tools.

Timely vs. The Events Calendar: Free Features Comparison Table
Free versions of both plugins may be a fit for freelance writers, bloggers, small companies, and solo entrepreneurs. If this is where you stand regarding your event management and publishing needs, we built this comparative board just for you. We suggest you use it to select your future events calendar plugin.
FREE FEATURES
TIMELY Plugin
THE EVENTS CALENDAR
MAIN FUNCTIONALITIES
Multiple language

✓

✓

Multiple time zones

✓

✓

Easy to use

✓

✗
Mobile-friendly

✓

✗
DESIGN & CUSTOMIZATIONS
Custom branding

✓

✓

Calendar themes

✓

12 themes
✗
Custom theme

✓

✗
Calendar views

✓

3 views

✓

3 views
Calendar widget

✓

3 styles

✓

1 style
Select different view for mobile and desktop

✓

✗
Customizable toolbar

✓

✗
Event page layout template

✓

1 style

✓

1 style
Filtering bar

✓

By date, month and year

✓

By date, month and year
Filter by keyword

✓

✓

Filter by tag, organizer and venue

✓

✗
Event venue & organizer tag system

✓

✓

Add multiple organizers per event

✓

✓

EVENT PUBLISHING & REACH
Single-day, multi-day and all-day events

✓

✓

Cloning events

✓

✗
Recurring events

✓

✗
Local time

✓

✗
Event Location system

✓

✓

EVENT AGGREGATION
Import event (csv / ics file)

✓

✗
EVENT PROMOTION & ENGAGEMENT
Calendar subscription

✓

Google, Apple & Outlook

✓

Google, Apple & Outlook
Social share buttons

✓

✗
File export

✓

ICS & XML

✓

ICS
Print ready

✓

✗
2. Security Compliance

With WordPress plugins, it is the website administrator's responsibility to keep it updated and running. Therefore, if the plugin needs to be constantly updated due to security issues, that means extra work for the website administrator.
The Events Calendar WordPress plugin had several security vulnerabilities reported within the last two years. Even though those vulnerabilities have been solved through updates to the plugin code, their recurrence indicates a not so safe product.
On the other hand, Timely
calendar plugin
was developed with impeccable technology, and had
zero vulnerabilities
in the last years. Therefore, if you're concerned with
WordPress plugin security
, Timely
events calendar WordPress plugin
is definitely the best choice.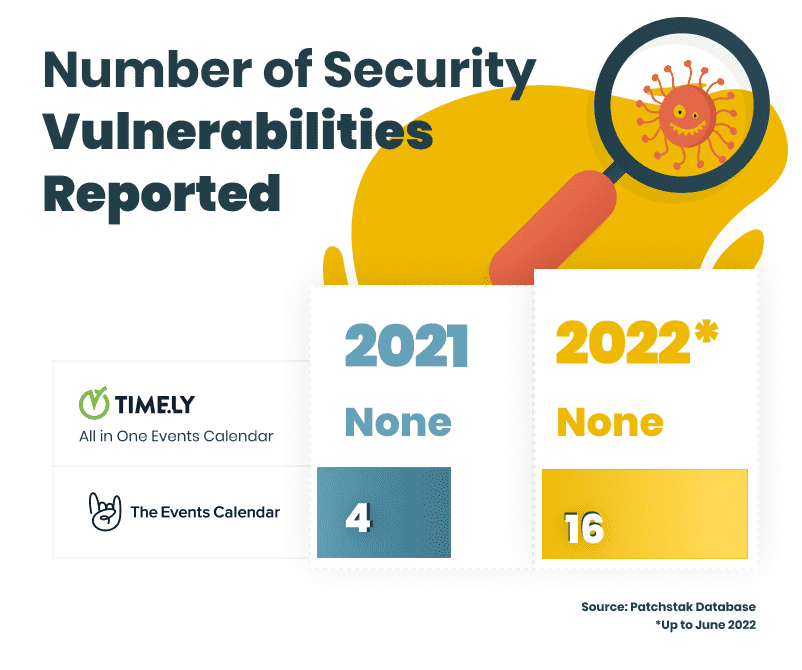 3. Business Scalability

While the free versions of these calendar plugins work well for freelancers and solo entrepreneurs, growing and well-established organizations usually need more robust event technology products.
Indeed, as your business grows, you want products that are scalable and can grow with you. That means, an event calendaring software that has a wide variety of features and paid plans available to suit your needs every step of the way.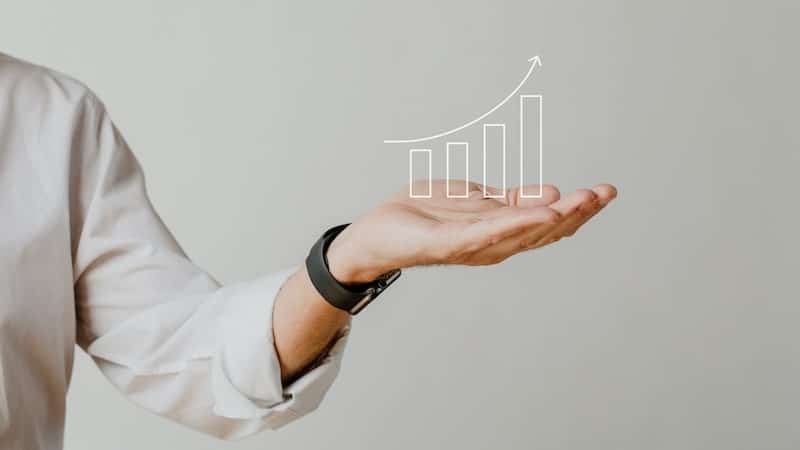 The Events Calendar WordPress plugin also allows upgrades with the Events Calendar Pro version, other plugins and add ons. However, adding more plugins and add ons to your website is not the best way to power up your event business.
Indeed, additional plugins and add-ons usually require individual payments that turn out to be more expensive than a solid plan upgrade. Moreover, they can conflict with each other, causing problems with your website's overall functions.
Timely wordpress calendar plugin offers the scalability you need for future growth. In fact, Timely provides an advanced event management system that allows you to do more than just build an events calendar for your website.
As you go up in Timely's paid plans, you get more features and functionalities. For example, you can accept event submission from others, send automated newsletters, and integrate with social media. You can also accept event registrations, sell tickets online, and check-in your guests at the door.
4. Conclusion: Timely is a Safer and Smarter Alternative to The Events Calendar

As you can see from this comparative overview, Timely is definitely the right choice, especially if you are representing a company or organization and need a more robust product.
Overall, Timely wordpress calendar plugin a stronger product with more useful features than The Events Calendar. It provides more security, with zero vulnerabilities in the past years. Also, Timely offers more scalability for future growth, with a wider variety of upgrade options to cater to several different types of clients and their unique event management needs.
Check out Timely All in One Events Calendar WordPress plugin to optimize event management in a safe, smart way!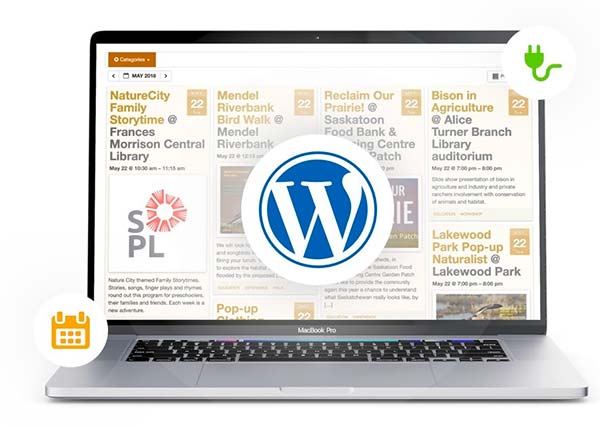 Download Now
Disclaimer:
The software products mentioned in this webpage for the purpose of comparison with Timely software are not sold or marketed by Timely. All products, names, trademarks, and registered trademarks are properties of their respective owners. They are used in this webpage for identification and reference purposes only. Timely is not endorsed by, directly affiliated with, maintained, authorized, or sponsored by any of the trademark owners referenced within. This webpage was last updated on September 30, 2022, and it is accurate to the best of our knowledge. If you believe anything to be incorrect, please
contact us
.
Get Started with Timely Event Software Solutions today

At Timely, we believe events are the cornerstone of experiences. We aim to create technology that brings communities together and turns events into lasting memories. Count on us to help you achieve your event management goals.