Events Calendar Compact Agenda View Demo
Timely events calendar compact agenda view is the optimal solution to showcase your events in a compact but still captivating way. It provides a general overview of the daily agenda, and quick access to important information directly from the event listing.

* The purpose of the navigation tabs above is to show Timely software's responsive design. In order to see how it looks like on different devices, we recommend viewing this page from a desktop. Otherwise, all views may look similar due to the software responsiveness.
Display your Events with Timely Events Calendar Compact Agenda View

Timely Calendar Compact Agenda View is the perfect way to display events in a simple vertical layout. It was designed to present all relevant event information as straightforwardly as possible.
Like all Timely calendar views, it automatically detects the width and orientation of your website visitors' screen, and adapts the online calendar for the best event discovery experience.
Events are displayed in a list in chronological order, without any images. All-day and multi-day events can be easily identified on the event listing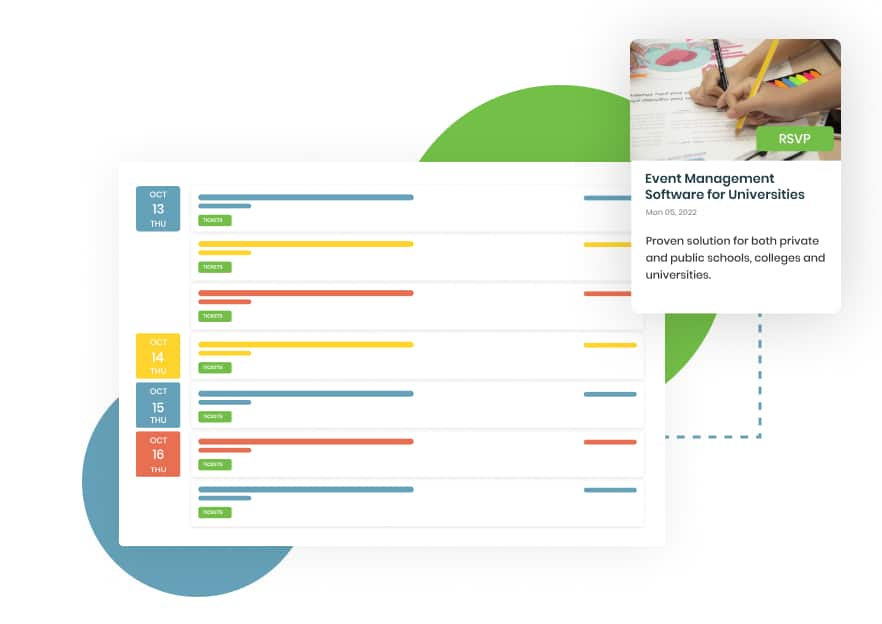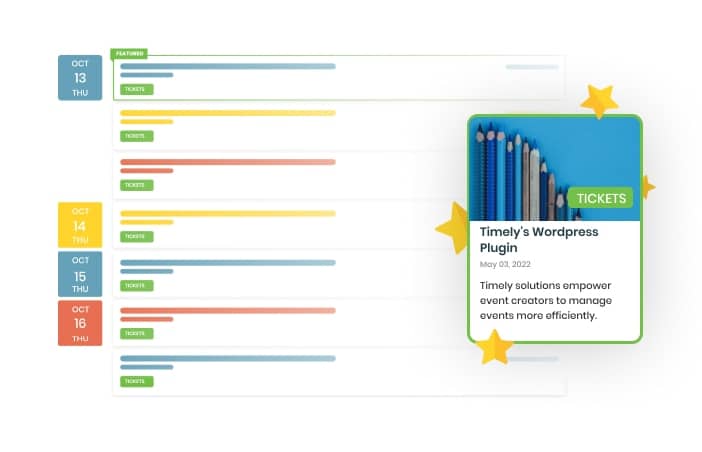 In this easy-to-navigate calendar interface, you'll find the event date highlighted on the left side. Only dates with events will be shown in order to avoid blank spaces.
Featured events are highlighted with a border around it, as well as a label on the top left corner with a star followed by the word "Featured".
The name of the event, date, start and end time, and venue location appear on the top of the event post. By clicking on the event, a pop-up or new window will appear on your screen with more information about the event.
You can customize your Timely Compact Agenda View anyway you want. You can choose between predefined themes, or apply your own colors and fonts.
You can also organize your events using filters, and determine which ones will appear on the public calendar to help your customers search and find relevant events.
In addition, you can decide which timezone to display your events and even load them for the local timezone of your website visitors.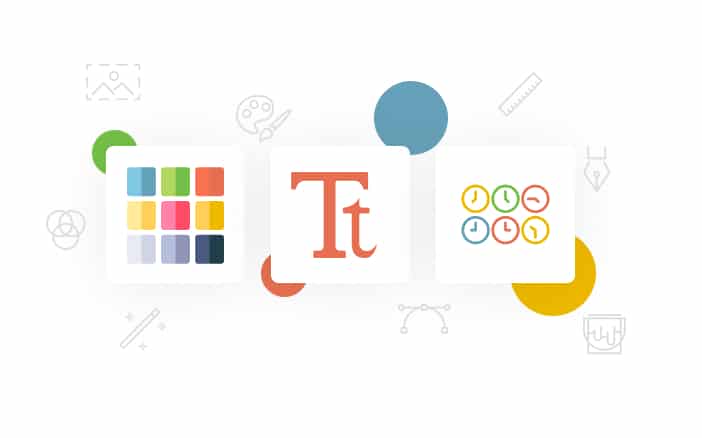 Safe, Secure and Reliable Software for Events

Discover how Timely event technology can take your events to the next level.


Custom Features
White label application that allows many design customizations, including font, colour, background, logo and unique content. Customize your calendar, events and even confirmation emails.

Easy to Use
Our platform has a clean design and presentation, and allows an intuitive navigation for users of all types and backgrounds. Moreover, it has multiple viewing options and search filters.

Anytime and Anywhere

Since all data is stored in the cloud, your staff and clients can access events anytime and anywhere. In addition, our software is fully compatible across all devices and platforms.

PCI-DSS Compliant

Protect yourself and your customer by reducing the risk of debit and credit card data being lost. Accept online payments via Paypal, Stripe and Square – all PCI DSS certified.
High Privacy and Security

Accessible

Our web based application is
Section 508
and 
WCAG 2.1 AA Level
 compliant. Therefore, it is accessible not only for your staff and volunteers, but also your audience and the community with disabilities.
You May Also Like These Other Demos
To provide you with an even greater understanding of our event software solutions capabilities, we've created multiple demo pages. They showcase how our online calendar views and widgets would appear on a public website or private intranet.

Event Creators Love Timely and We Love Them Back!

More than 150,000 organizations around the globe rely on Timely to manage their events more efficiently every day. Sign up today and start this love story you too.

Get Started with Timely Event Software Solutions today

At Timely, we believe events are the cornerstone of experiences. We aim to create technology that brings communities together and turns events into lasting memories. Count on us to help you achieve your event management goals.