Event Management Software for Schools, Colleges and Universities

Proven event management software for schools, colleges and universities, both public and private. Beautifully showcase your events and better connect with students, faculty, staff and the general public.

Host Outstanding Campus Events with Timely Event Management Software for Universities and Educational Institutions

Timely has a strong presence in global educational markets. So far, we've worked with more than 2,000 schools, colleges and universities worldwide. Trust Timely event software for universities, colleges and schools for all your event management needs.

Educational Institutions' Major Event Management Challenges:

We've been working with event professionals since 2012. We know the challenges faced by educational institutions when hosting and promoting events.

Elementary & Secondary Schools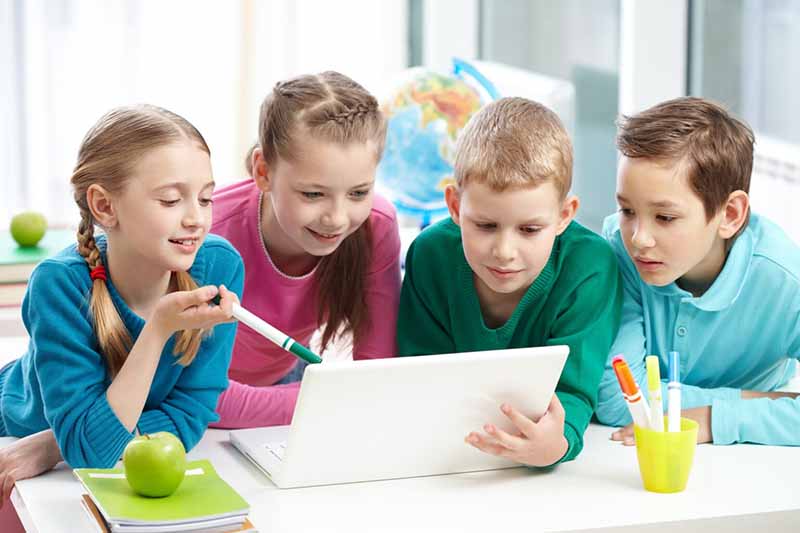 You host many school events per year. Currently you use spreadsheets and email to manage and promote your school events, which is time consuming.
Successful school fundraising events depend on ticket sales and donations. The tools you use are not helpful.
Teacher-student communication outside classroom needs improvement. Homework assignment, delivery and grading need to be speed up. The school community is pushing for more technology in the classroom.
You want to be more eco-friendly. Phasing out printed school agendas might be a good solution, but you need a sustainable replacement.
Colleges & Universities

Student life is busy at your university campus with many classes, lectures and seminars happening at the same time. However, it is hard to keep up since information is too spread out throughout university departments.
You host several high profile events at your campus, and need to make it easier for students and the general public to register for them. You want your audience to visit your website for event tickets and season passes, instead of buying them from third party ticketing platforms.
Sports, athletics and performing arts events are an important part of university life. You want to keep your audience informed, drive attendance to your upcoming events, and create loyal fans.
You need a complete box office solution that works for both in person and online ticket sales, updates tickets inventory in real time automatically, and is accessible for people with disabilities.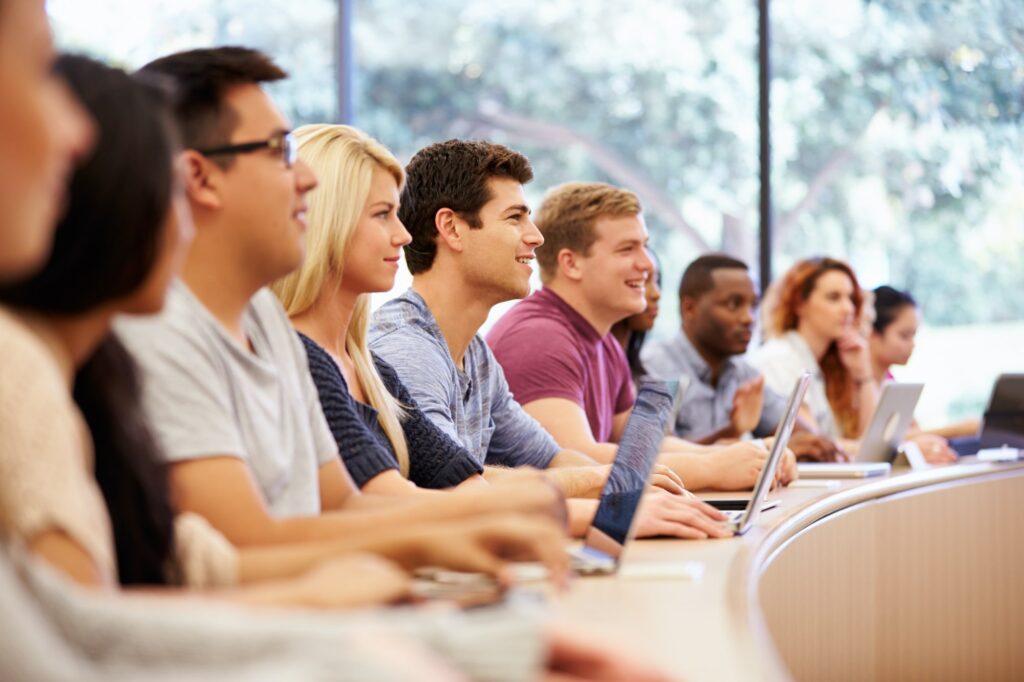 Student Unions, Campus Clubs & Recruitment Agencies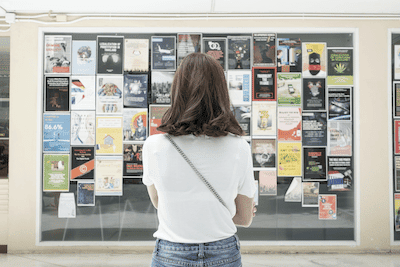 You are or want to be an influencer among your peers. Being an active member of a student union, society or club will help you develop important leadership skills for your future career.  
You want to improve campus life and students and alumni's experience, increase awareness of relevant issues, or showcase job opportunities to recent graduates. You know that live and virtual events are a great way to achieve all that!
There is so much going on at the same time. It is difficult to collect, present and distribute all the relevant events that are happening in your campus. 
Events are community-led. Thus, you need your community to tell you and others what is happening.
How can Timely Software Help Educational Institutions Better Manage Events?

Timely event technology helps elementary and secondary schools, colleges, universities, and educational facilities achieve their event goals in many ways:


Centralize Event Management

Manage one or more event calendar from a single platform. Our web based application is feature rich, easy to use and does not require any software development or web design technical skill.

Embed on Your Website

Have an online events calendar integrated to your website, and improve your website's SEO in a meaningful way. Offer relevant events to your target audience, and stand out from the competition.

Post Content-Rich Events

Engage your existing viewers and attract new ones by bringing in person and online events that interest them. Add media, videos and links and get their attention. Show your events with stunning calendar views.

Import Relevant Events

Easily fill your calendar with relevant events and amaze your audience. Consolidate your calendars, transfer events in bulk, and find and import events from multiple sources automatically.

Let Users Submit Events

Capture community events with an event submission form in your website, and easily populate your events calendar. Allow the community to submit events for free or for a fee, while keeping full publishing controls.

Promote Events with Ease

Post events from your calendar to Facebook and Twitter automatically and in bulk. Share events on other social media platforms. Boost event attendance with automated emails and rsvps.

Accept Venue Bookings Online

Allow the community to reserve your function rooms on your website anytime and anywhere. Organize your room schedules and invoicing. Know your space availability at all times and prevent double-booking.

Manage Event Registrations

Collect RSVPs prior to your event and check attendees at the door. Using a single application, show your guests that you are on top of every registration. Increase your repeat business and consequently revenues.

Sell Event Tickets Online

Monetize events by selling tickets from your own website, instead of driving traffic to third-party ticketing platforms. Rest assured that all payment transactions are secure, and all data is protected.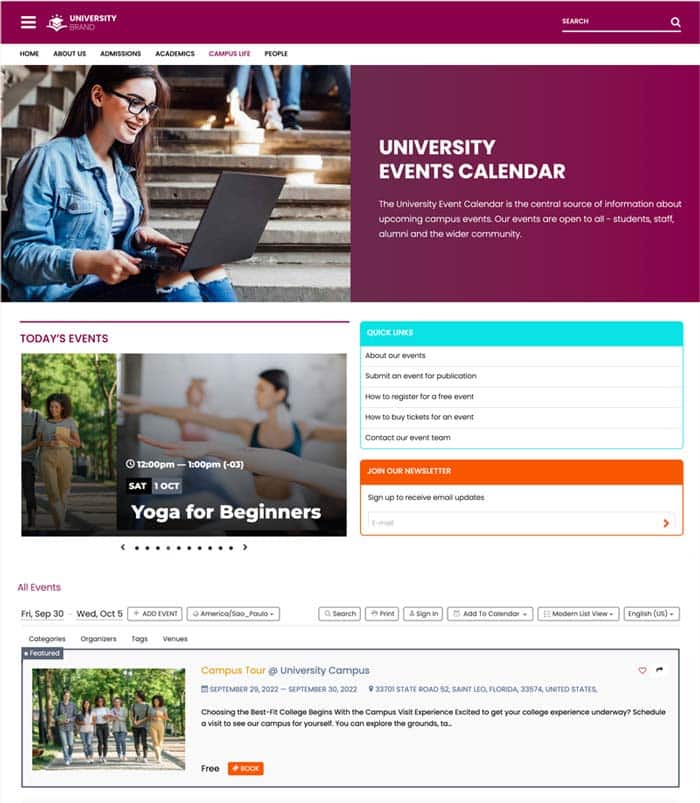 University Events Calendar Demo

Enhance your campus events with Timely Event Management Software for Universities, Colleges & Schools. From campus tours, seminars and lectures to sporting events, graduation ceremonies and alumni reunions, Timely event scheduling software for higher education can help you take your university events to the next level!

See the Demo
Easily Create your School Events and Showcase a Vibrant Campus Life

Timely's event management software for schools, colleges and universities is a comprehensive platform for all your campus event scheduling, promotion and ticketing needs.

Arts & Culture

Student Life

Athletics & Recreation

Graduation

Students Support

Performing Arts

Seminars & Workshops
Lectures

Thesis Defences

Fundraising

Proms & Balls

Online Courses

Benefits of the Timely Event Management Software for Universities, Colleges and Schools
A school, college or university hosts many events per year. As a single, one-stop event management software for schools, Timely can effectively and efficiently help them manage and organize events. Some of its other obvious merits are: Promoting events and selling tickets online at the click of a button. It can no doubt result in tremendous sales and time and cost efficiencies. However, it proves to be beneficial in more ways than one:

Makes Event Organizing Easier
Right from making it easy to plan numerous events throughout the year to managing date and venue conflicts our event management software for schools makes it easy to organize and manage events, from a one-point location. Whether you're a school, college, or university, Timely takes the stress and cumbersome work out of event organizing.

Provides All Relevant Event Information in a Single Location
Another major advantage of our event management software for schools is that it provides a ready, easily accessible, one-stop information repository for all events. At one quick glance, students, parents and the community can get to know everything about the event, including the date, venue, agenda, and all other relevant information.

Increases Campus Events Awareness
Timely event management for universities, colleges and schools can help increase awareness of events beforehand among both parents, students and the community. You no longer have to promote your events separately to parents and the community, minimizing the time and costs associated with creating event flyers or brochures.

Boosts Event Attendance
A school event calendar can also help students and parents plan their time and budget for events that are of interest to them. Students and parents can benefit immensely from a school event management system, by being better informed or even registering for events in advance.

Keeping abreast of the types of events held in the school at any given time has never been easier! Set online agendas, manage the event calendar, handle event booking, and monitor event ticketing, all at the click of a button. Are you ready to ease your event organization and management every step of the way? Try for free or book a demo to learn more!

What Do Our Clients Say About Timely Event Platform?

At Timely, we are committed to building the best event technology, and providing the best customer experience possible.
But don't take our word for it. Check out some customer testimonials from real clients and event industry experts.
The University of Bristol

"Timely Event Calendar looks so much better than our previous university calendar system; and the functionality is above and beyond what we used to have."

Laura Pugh, Event Coordinator at the
University of Bristol

READ FULL STORY
Safe, Secure and Reliable Software for Events

Discover how Timely event technology can take your events to the next level.


Custom Features
White label application that allows many design customizations, including font, colour, background, logo and unique content. Customize your calendar, events and even confirmation emails.

Easy to Use
Our platform has a clean design and presentation, and allows an intuitive navigation for users of all types and backgrounds. Moreover, it has multiple viewing options and search filters.

Anytime and Anywhere

Since all data is stored in the cloud, your staff and clients can access events anytime and anywhere. In addition, our software is fully compatible across all devices and platforms.

PCI-DSS Compliant

Protect yourself and your customer by reducing the risk of debit and credit card data being lost. Accept online payments via Paypal, Stripe and Square – all PCI DSS certified.
High Privacy and Security

Accessible

Our web based application is
Section 508
and 
WCAG 2.1 AA Level
 compliant. Therefore, it is accessible not only for your staff and volunteers, but also your audience and the community with disabilities.
Schools, Colleges and Universities Love Timely and We Love Them Back!
More than 150,000 organizations around the globe rely on Timely to manage their events more efficiently. Sign up today and start a love story you too.

Get Started with Timely Event Software Solutions today

At Timely, we believe events are the cornerstone of experiences. We aim to create technology that brings communities together and turns events into lasting memories. Count on us to help you achieve your event management goals.