Event Management Software for Corporate Learning

Train your employees, customers and partners at scale with Timely event management software for corporate learning. The best corporate LMS system for businesses that want to strengthen their learners' professional development and skills.

Deliver Top-Notch Employee, Customer and Partner Training with Timely Corporate Learning Management System

Unlock the power of learning and drive business success with Timely corporate LMS software. We offer a superior corporate e-learning platform with tools to maximize learners' engagement and skills development at scale.

Corporate Learning Top Event Management Challenges:

We've been working with event professionals since 2012. We understand the challenges faced by human resources, customer success and sales professionals when hosting and promoting corporate education events.

HR, Customer Success and Sales Departments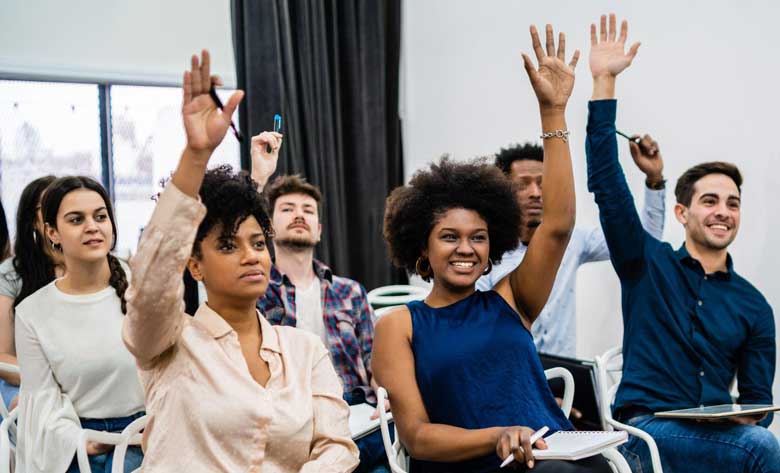 You know that value can be added to your organization's business development goals through corporate learning.
The job market is more competitive than ever, and the lack of a strong corporate learning system can lead to low productivity and challenges with employee retention.
Your company offers various corporate training events every month. You train employees, customers and sales partners. There is a need to increase the events' awareness, engagement and attendance.
Currently you use spreadsheets and email to create, promote and manage your corporate events. You need an internal learning management system to help you be more efficient while saving costs.
Being able to offer in-person, virtual and hybrid events to your audience can certainly boost your corporate education efforts.
You use different softwares for employee onboarding, professional development, customer and partner training. Having one corporate lms system that does it all would be ideal.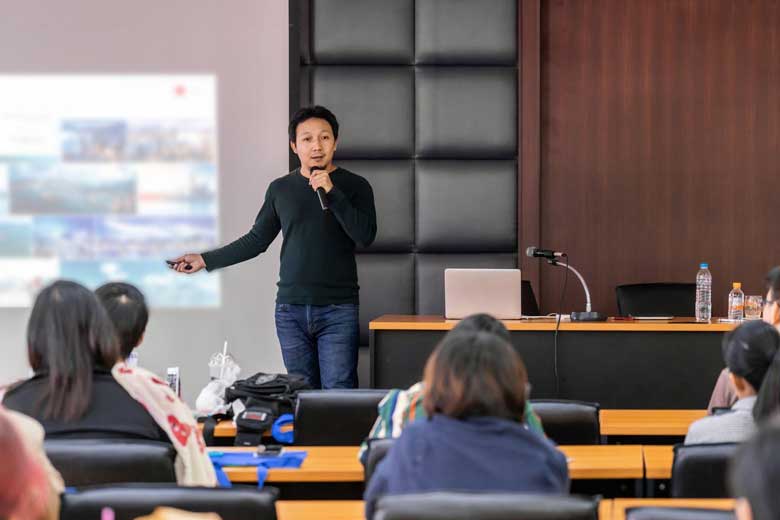 How Can Timely Help Your Corporate Training Efforts?

Timely's event management software for corporate learning helps corporate trainers and educators manage their events and courses more efficiently, in several ways:

Centralize Event Management
Aggregate all your corporate training events, courses and materials. Integrate them into a centralized events calendar embedded on your website, intranet or app. Manage everything from a single event management platform.

Customize your Calendar

Use our white label software to create a beautiful training calendar that feels native to your brand and website. Customize colors, fonts, logo and unique content. Easy to use platform. No coding or web designer skills required.

Post Content-Rich Events

Engage your employees, customers and partners by bringing in-person, online and hybrid events with stunning calendar views. Add presentations, media, videos and meeting links to your upcoming or past events.

Import Relevant Events

Easily fill your calendar with relevant events, and amaze your audience. Add events individually or in bulk. Consolidate your calendars, by importing and syncing your Google, Outlook or Apple calendars.

Promote Events with Ease

Publish your training schedule, and allow your audience to subscribe to your events or share them on social media. Post events to Facebook and Twitter automatically. Boost event engagement with automated newsletters.

Manage Registrations

Collect RSVPs or sell tickets to your courses and training sessions. Using a single application, manage registrations and send event reminders. Rest assured that payment transactions are secured, and data is protected.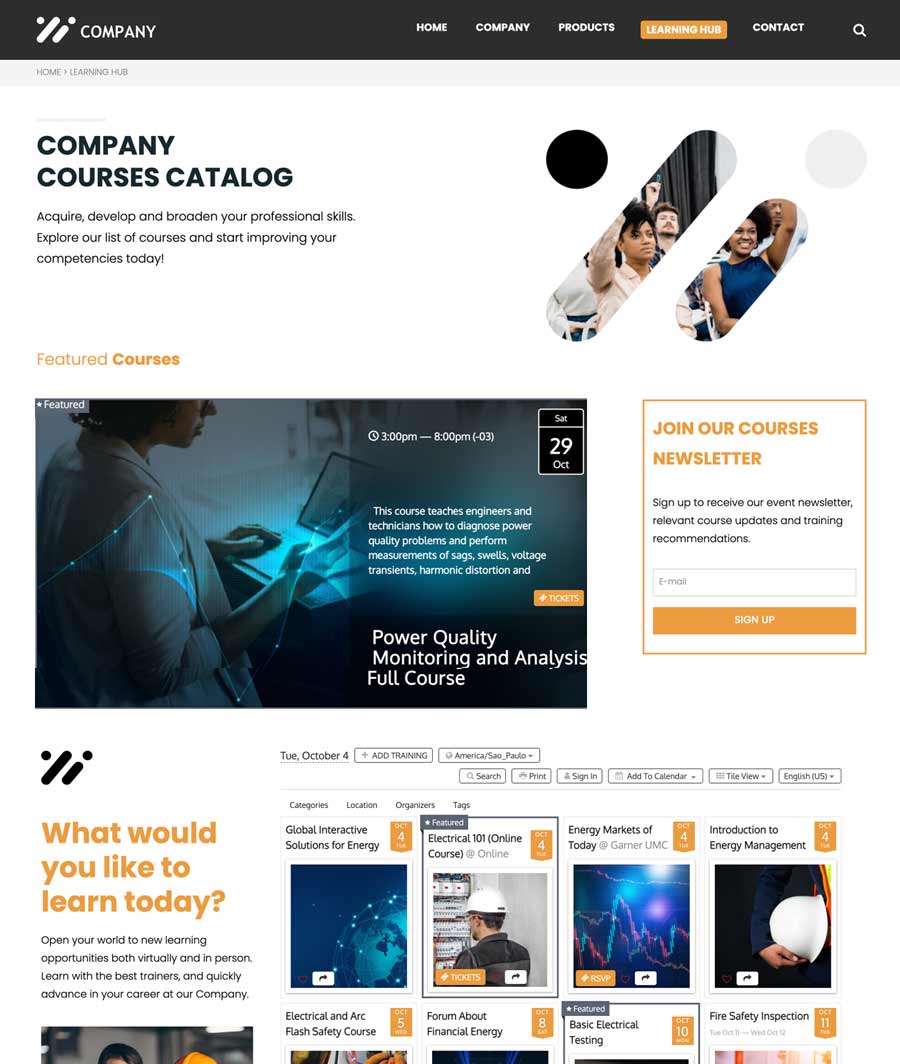 Corporate Training Calendar Demo

Looking for new ways to manage your corporate training events? Look no further than Timely Corporate Learning Software. Say goodbye to tedious spreadsheets and forgotten group email reminders. With its beautiful and modern interface, Timely Corporate Training Software is all you need to improve your corporate events' awareness, engagement and attendance.

See the Demo
Deliver Effective, Dynamic and Manageable Training Courses with a Powerful Corporate Learning Management System

Timely's event management software for corporate learning is the perfect tool to help you reach your corporate training management goals. Your employees, customers and partners will be inspired by your online course listing and excited to attend your events.


Employee Onboarding

Employee Training

Skills Development

Leadership Workshops

Customer Training

Product Training

Equipment Training

Partner Training

Benefits of Timely Corporate Learning Software
Irrespective of your training field or needs, Timely event management software for corporate learning helps your organization plan, publish, promote and manage your training courses more efficiently. Here is how:

Online Presence

Reinforce your reputation and brand authority by providing online visibility to your training courses. With Timely white-label software you can create a stunning online training listing that looks just like your organization. No login required, making it easier for employees, customers and partners to find your events.

Support Corporate Culture

Create a culture for your organization by strengthening your corporate training efforts. Using Timely corporate learning management system, you can easily share your company's values and know-how with management, mid-level employees, front-line workers, customers and partners.

Event Awareness
Timely event management software for corporate learning can help you increase awareness of events. Promote all your courses from one convenient online searchable platform. Allow your audience to subscribe to your calendar, and share your events to their network and social media.

Productivity
Automate your learning management activities and save costs with an easy to use corporate LMS solution. Whether you need to import events from several sources, publish on social media, send reminder emails, or track bookings and tickets, Timely platform can do it for you, automatically.

Timely's corporate LMS system is a user-friendly training platform to help you centralize all your corporate education events. Build your training calendar, manage your courses, share them on social media, and even handle RSVPs and ticket sales from a single software.

Online, in-person or hybrid. No matter your training needs, Timely corporate learning management system software has everything HR, Customer Success and Sales teams need to promote and manage corporate training and education more efficiently. Book a meeting, or check our calendar demo to learn more!

What Do Our Clients Say About Timely Event Platform?
At Timely, we are committed to building the best event technology, and providing the best customer experience possible.
But don't take our word for it. Check out some customer testimonials from real clients and event industry experts.
The Avon Company Canada
"We have considered other calendars, but we chose Time.ly because it integrates well and looks great on our website. In addition, it is easy to use and feature rich."

Cheryl Makaro, National Field Training
Manager at The Avon Company Canada

Read full story
Safe, Secure and Reliable Software for Events

Discover how Timely event technology can take your events to the next level.


Custom Features
White label application that allows many design customizations, including font, colour, background, logo and unique content. Customize your calendar, events and even confirmation emails.

Easy to Use
Our platform has a clean design and presentation, and allows an intuitive navigation for users of all types and backgrounds. Moreover, it has multiple viewing options and search filters.

Anytime and Anywhere

Since all data is stored in the cloud, your staff and clients can access events anytime and anywhere. In addition, our software is fully compatible across all devices and platforms.

PCI-DSS Compliant

Protect yourself and your customer by reducing the risk of debit and credit card data being lost. Accept online payments via Paypal, Stripe and Square – all PCI DSS certified.
High Privacy and Security

Accessible

Our web based application is
Section 508
and 
WCAG 2.1 AA Level
 compliant. Therefore, it is accessible not only for your staff and volunteers, but also your audience and the community with disabilities.
Corporate Trainers and Educators Love Timely and We Love Them Back!
More than 150,000 organizations around the globe rely on Timely to manage their events more efficiently every day. Sign up today and start this love story you too.

Get Started with Timely Event Software Solutions today

At Timely, we believe events are the cornerstone of experiences. We aim to create technology that brings communities together and turns events into lasting memories. Count on us to help you achieve your event management goals.