Event Management Software for Corporate Events

Improve corporate events planning, raise brand awareness, engage employees and clients, while promoting your company's culture. All with Timely Event Management Software for Corporate Events, the best corporate event platform for event marketers.

Highlight your Company's Values and Brand Authority with Timely Event Management Software for Corporate Events

Hosting in-person, hybrid and virtual corporate events is the perfect way to share company's culture, beliefs and values. Events provide the right framework to communicate with employees and clients who want to know more about the company. Savvy event marketers choose Timely event marketing tools to help with planning corporate events, and making them a success.

Top Corporate Events Management Challenges:

We've been working with event professionals since 2012. We understand the challenges faced by Marketing and HR Departments with corporate events planning, promotion and management.

Marketing and Communication Departments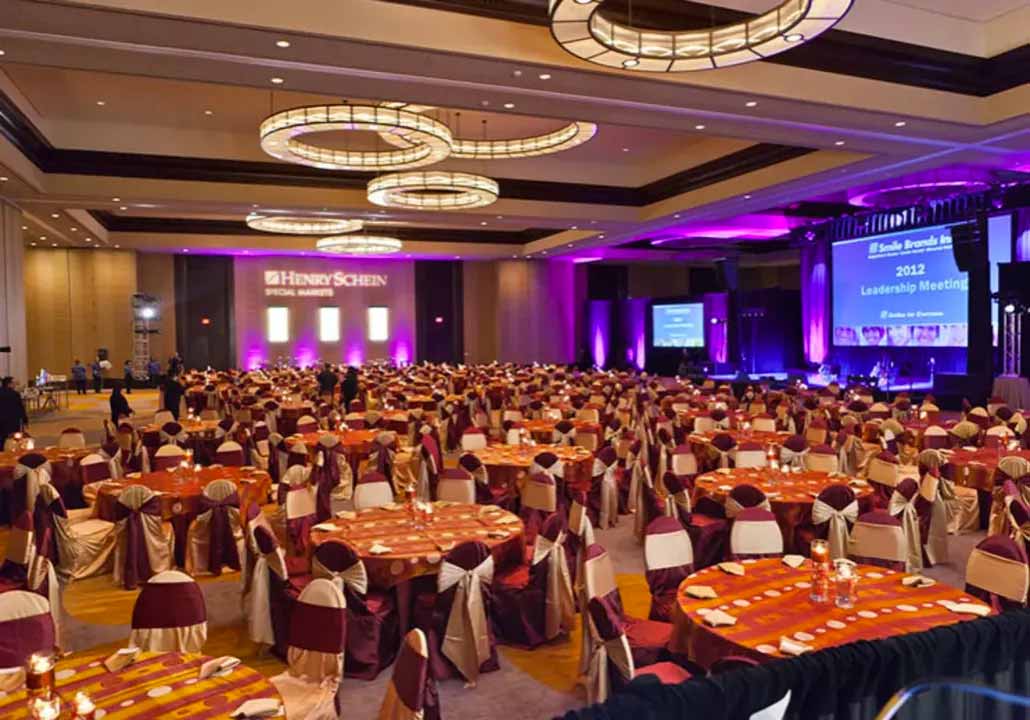 Event marketing has helped your organization boost business opportunities. However, using spreadsheets and PDFs to plan and promote these corporate events has become outdated considering today's digital demands.
You want to attract global attention and win international brand recognition. Hosting external events seems to be the right strategy, but you don't have the appropriate event marketing tools to help you promote events worldwide.
Communicating with attendees is key to keep them engaged. Currently, you post each and every event on social media, and send event newsletters and reminders manually. These tasks generate duplicated work and are very time consuming.
Engagement Committees and HR Departments

Corporate events planning is decentralized and somehow disorganized. Each unit works in silos, planning and promoting their own internal events, in their own way, using disconnected tools, such as spreadsheets, email messages and invitations.
Often, employees are not aware of what is happening across the company. There is no unified internal online portal where everyone can find all upcoming events. Therefore, event awareness and attendance are low.
Engaged employees like to participate by suggesting interesting corporate events. However, the event submission review process is time consuming and slow. Some employees get tired of waiting for approvals and stop submitting events.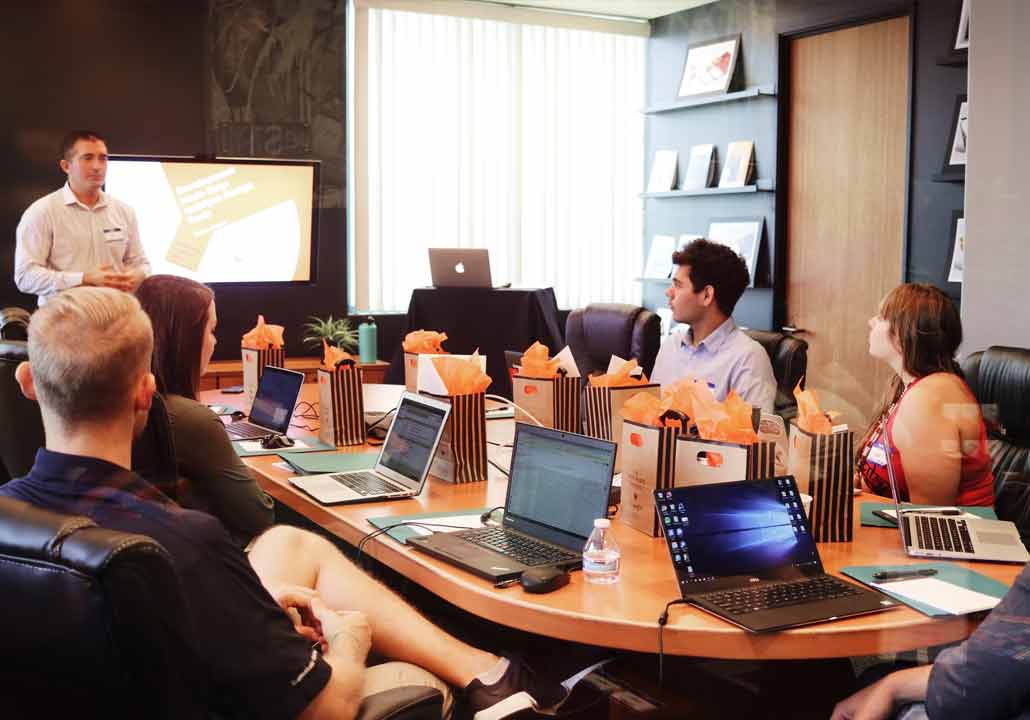 How Can Timely Software Help With Corporate Events Planning, Promotion and Management?

Timely's event management software for corporate events can help your company in many ways. For instance, organizing memorable events, engaging prospective clients and employees, and promoting your brand and internal culture. Choose an event marketing platform that is easy-to-use, yet still provides all of the required features.

Centralize Event Management
Aggregate all your internal and external corporate events. Keep them separated by department, or integrate them into a centralized online events calendar embedded on your website, intranet or mobile app. Manage everything from a single event marketing software.

Customize your Calendar

Use our white label software to create a beautiful corporate events calendar that feels native to your brand and website. Customize colors, fonts, logo and unique content. Easy to use event marketing platform. No coding or web designer skills required.

Expand to Global Users

Increase the reach of your corporate events beyond geographical barriers with functionalities aimed at global audiences. Software features like multi languages, multi time zones and custom filters can make it easier for users from all backgrounds to find and register for your events.

Post Content-Rich Events

Give more visibility to your in-person, hybrid and online corporate events with an online events calendar. Engage employees and clients with stunning calendar views and event page layouts. Add presentations, media, videos and links to your upcoming events.

Let Employees Submit Events

Build a culture of belonging by allowing employees to submit corporate events for publication on the online calendar. Capture event submissions with an integrated event submission form, and built-in workflows and automations to speed up the event approval process.

Promote Events with Ease

Publish your corporate events' schedule online, and allow employees and clients to subscribe to your events and share them with their network. Post events to LinkedIn, Facebook, and Twitter automatically. Boost event engagement with automated newsletters.

Manage Event Registrations

Collect online registrations for single events and time-slot appointments, and know in advance who is coming to your corporate events. Check attendees by the door, and show your guests that you are on top of every registration.

Sell Event Tickets

Monetize events by selling tickets from your own online corporate events calendar, and stop driving traffic to third-party ticketing platforms. Rest assured that payment transactions are secured, and data is protected.

Enhance the Event Experience

Simplify how your customers and employees interact with your corporate events offerings. Impress them with branded communications, generate leads, and manage customer and employee relationships.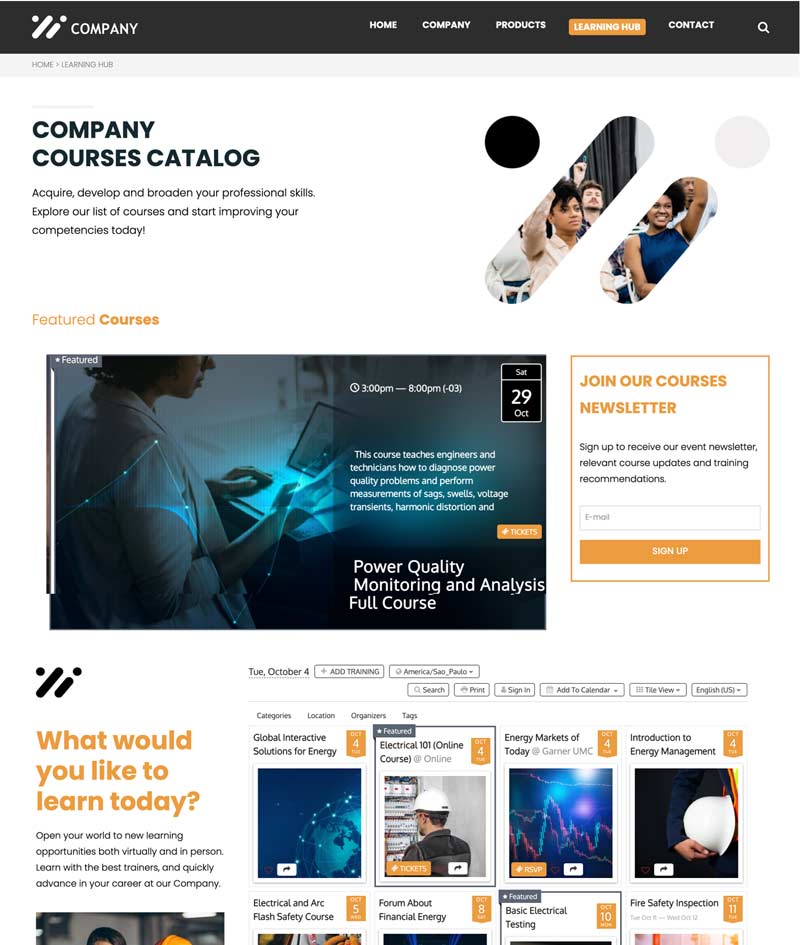 Corporate Training Calendar Demo

Looking for new ways to manage your corporate training events? Look no further than Timely Corporate Learning Software. Say goodbye to tedious spreadsheets and forgotten group email reminders. With its beautiful and modern interface, Timely Corporate Training Software is all you need to improve your corporate events' awareness, engagement and attendance.

See the Demo
Intensify your event marketing efforts with a reliable corporate events solution. Timely provides a simple and easy to use platform for event marketers to create a professional and scalable web presence. You will be able to expand your business, as well as promote growth for both employees and clients alike.

Host all Kinds of Internal and External Corporate Events

Timely Event Management Software for Corporate Events is the ideal solution for planning corporate events. Plan unforgettable events, connect with prospective clients, and make employees proud of being part of your organization.

Virtual Conferences

Webinars

Trade Shows

Round-tables

Workshops

Social Events

Symposiums

Diversity talks

Benefits of Timely Corporate Events Software

Regardless of whether you are trying to create a memorable event experience for new clients, or promoting a healthy and diverse corporate environment for your employees. Timely Event Management Software is the best event marketing platform to plan, promote and manage corporate events more efficiently.

Improve Organizational Efficiency

Timely's smart, simple event software solutions are a perfect fit for organizations that want to centralize corporate events planning, promotion and management. Improve efficiency and productivity with streamlined event management processes, as well as built-in event submission workflows, social media integrations and registration automations.

Strengthen Corporate Culture

Make your employees and clients happy and engaged with an integrated online corporate events calendar that they can access anytime and anywhere. Timely's event marketing software helps raise event awareness, engagement and attendance for corporate events, while being loyal to your company's tone of voice and brand guidelines.

Boost Brand Reputation

Promote your company's brand online using a strong and organized event marketing platform that adds value and interaction to your events. Timely's software helps you with planning corporate events and promoting them online, as well as engaging with your audience through automated newsletters and social media posts.

Save Internal Resources and Costs

Reduce administrative work and costs by eliminating redundant or duplicated work, and consolidating multiple technology tools onto a single and more powerful platform. Boost your team work and event administration by allowing employees to create, submit and manage events for publication directly into the corporate events calendar.

Timely is a user-friendly event platform that helps you create all kinds of internal and external corporate events.

Online, in-person or hybrid corporate events. Timely Event Management Software for Corporate Events has everything you need to plan, promote and manage corporate events more efficiently. Book a meeting, or talk to us to learn more!

Safe, Secure and Reliable Software for Events

Discover how Timely event technology can take your events to the next level.


Custom Features
White label application that allows many design customizations, including font, colour, background, logo and unique content. Customize your calendar, events and even confirmation emails.

Easy to Use
Our platform has a clean design and presentation, and allows an intuitive navigation for users of all types and backgrounds. Moreover, it has multiple viewing options and search filters.

Anytime and Anywhere

Since all data is stored in the cloud, your staff and clients can access events anytime and anywhere. In addition, our software is fully compatible across all devices and platforms.

PCI-DSS Compliant

Protect yourself and your customer by reducing the risk of debit and credit card data being lost. Accept online payments via Paypal, Stripe and Square – all PCI DSS certified.
High Privacy and Security

Accessible

Our web based application is
Section 508
and 
WCAG 2.1 AA Level
 compliant. Therefore, it is accessible not only for your staff and volunteers, but also your audience and the community with disabilities.
Corporate Event Marketers Love Timely and We Love Them Back!

More than 150,000 organizations around the globe rely on Timely to manage their events more efficiently every day. Sign up today and start this love story you too.

Get Started with Timely Event Software Solutions today

At Timely, we believe events are the cornerstone of experiences. We aim to create technology that brings communities together and turns events into lasting memories. Count on us to help you achieve your event management goals.