Event Management Software for Investor Relations

Better connect with the investment community with Timely event management software for investor relations. Perfect for publicly traded companies that want to share key corporate information, while increasing event engagement and participation.

Transform your Investor Relations Events with Timely Event Management Platform

Create, promote and manage all your investor relations events in one place, being them in-person, virtual or hybrid. Bring more technology and new levels of efficiency to your IR team. Trust Timely for all your event management needs.

Investor Relations Event Management Challenges:

We've been working with event professionals since 2012. We understand the challenges faced by investor relations professionals when hosting and promoting IR events.

Investor Relations Departments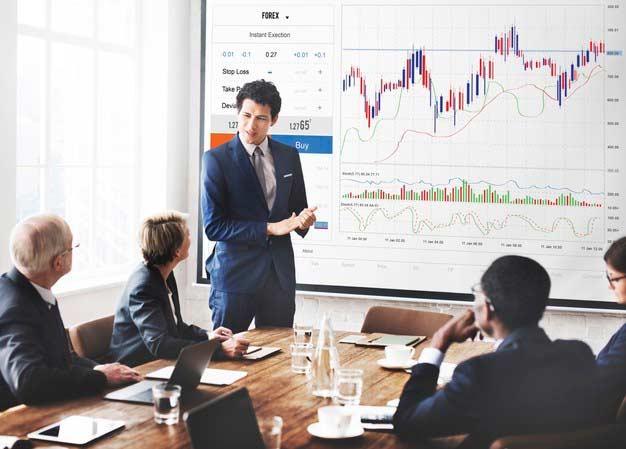 IR events are the best way to connect with analysts and targeted investors, and position your company as a great opportunity in the stock market.
As an IR professional, you host several events per year, including shareholder meetings, earning calls, conferences and investors days. However, event engagement and attendance are lower than you expect.
With the world heading towards a new normal, investor relations professionals need to adapt and offer additional event delivery options to all stakeholders, including in-person, remote and hybrid events.
Your online event listing is neither attractive nor user-friendly. It is hard for the public to search and find the information they are looking for.
Copying and pasting events from other sources and adding event information to your website can be repetitive and time consuming. Sometimes, it also requires the assistance of a web designer or IT staff to make sure everything looks good and on-brand.
Promoting IR events is challenging. Sending emails to your contact list, and posting on social media channels is labour intensive and time consuming.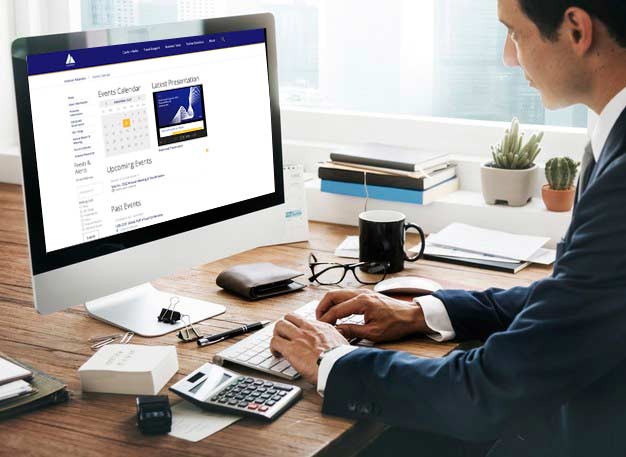 How Can Timely Help Your Investor Relations Department?

Timely's event management technology helps investor relations professionals create, promote and manage their IR events more efficiently, in several ways:

Centralize Event Management
Aggregate all investor events that are relevant to your organization. Integrate them into a centralized events calendar embedded on your website. Manage everything from a single event management platform.

Customize your Calendar

Use our white label software to create a beautiful IR calendar that feels native to your brand and website. Customize colours, fonts, logo and add your unique content. Easy to use platform. No coding or web designer skills required.

Post Content-Rich Events

Engage your stakeholders by showing your events with stunning calendar views. Add presentations, media and webcast or meeting links to your upcoming or past events, and get their attention. Make your events easily searchable.

Import Relevant Events

Easily fill your investor relations calendar with relevant IR events and amaze the investment community. Add events individually or in bulk. Consolidate your calendars by importing and syncing your Google, Outlook or Apple calendars.

Promote Events with Ease

Convert visitors into investors by allowing them to subscribe to your events, and share them on social media. Post events to Facebook and Twitter automatically. Boost event engagement with automated email newsletters.

Manage Registrations

Collect RSVPs prior to your investor events. Using a single application, manage registrations, spot availability, attendees' list, and even send event reminders. Rest assured that personal data is protected and in compliance with Privacy Laws.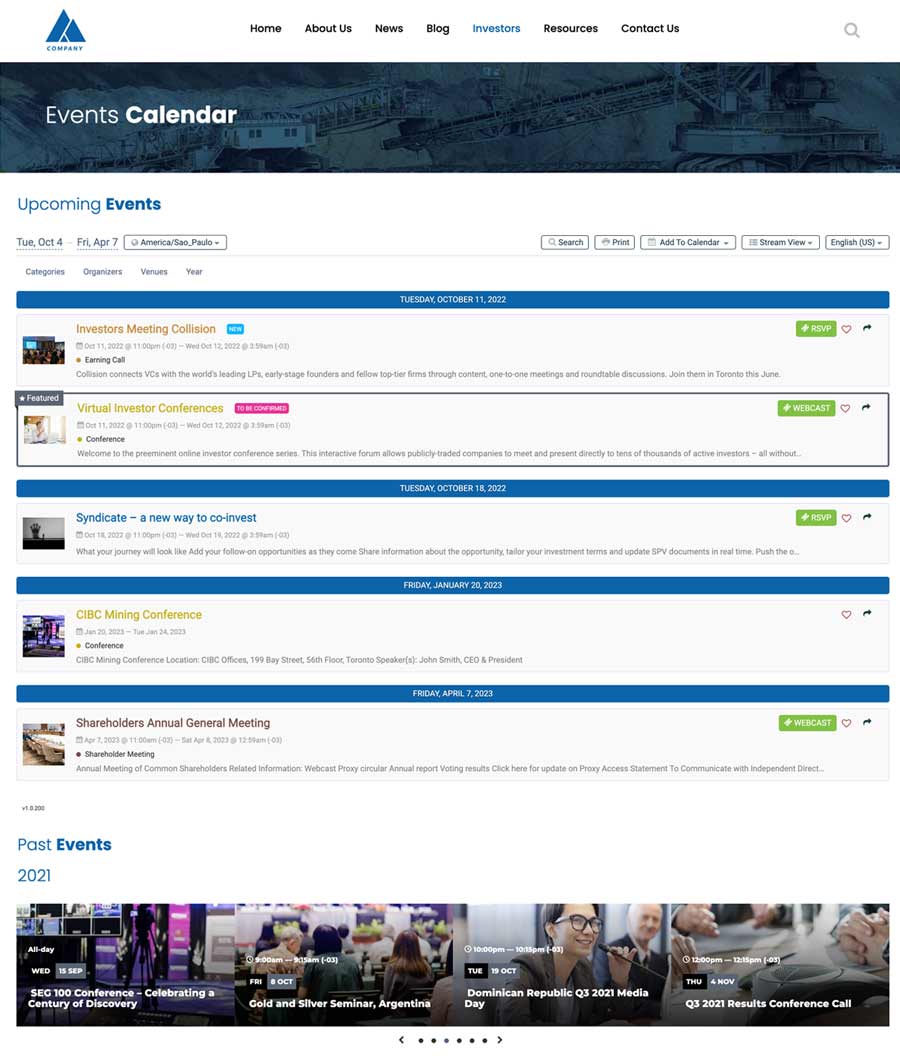 Investor Relations Calendar Demo

Do you want to connect with shareholders and potential investors through engaging events? Promote upcoming and past conferences, investors days, presentations and webcasts all from your website. Timely Investor Relations Software is all you need to increase awareness about investment opportunities, and better communicate with investors and stakeholders.

See the Demo
Empower your IR Team with a Sophisticated Investor Relations Calendar and Meet the Challenges of a New Era

Timely's event management software for investor relations helps publicly traded companies get the most of their IR Programs. Your shareholders and analysts will be amazed with your dedicated investor relations calendar, and excited to join your events.

Shareholder Meetings

In-Person Conferences

Virtual Conferences

Earning Calls

ESG Meetings

Non-Deal Roadshows

Investor Days

Media Days

Benefits of Timely Event Management Software for Investor Relations

From event planning and promotion to registrations, Timely event management software for investor relations helps your corporation communicate and engage effectively with your stakeholders, while increasing the efficiency of your IR department. Here is how:

Online Presence
Strengthen your reputation by providing online visibility to your IR events. With Timely white-label software you can create a stunning IR website calendar that looks just like your organization. No login required, making it easier for investors to find your events and learn about your company.

Event Awareness

Timely event management software for investor relations can help you increase awareness of events. Promote all your IR events from one convenient online searchable platform. Allow your audience to subscribe to your investor relations calendar, and share your events to their network and social media.

Event Engagement

If you want to better connect with your investors and analysts, you found the right tool. Timely IR event management software can help you improve engagement with stakeholders by providing them with current and past corporate information, as well as online event registration capabilities.

Productivity
Automate your event management activities and save time and labour with an easy to use software solution. Whether you need to import events from several sources, publish events on social media, send reminder emails, or track event bookings, Timely platform can do it for you, automatically.

Timely's IR event management software is a simple to use solution to help you keep all your investor events in one place. You can build your investor relations calendar, manage your events, promote them on social media, and even handle RSVPs from a single platform.

Hybrid, virtual or in-person. No matter your event type, Timely event management software for investor relations has everything IR teams need to promote and manage events more efficiently. Link Timely with your favorite webcast service provider, and you are good to go. Book a meeting, or check our calendar demo to learn more!

Safe, Secure and Reliable Software for Events

Discover how Timely event technology can take your events to the next level.


Custom Features
White label application that allows many design customizations, including font, colour, background, logo and unique content. Customize your calendar, events and even confirmation emails.

Easy to Use
Our platform has a clean design and presentation, and allows an intuitive navigation for users of all types and backgrounds. Moreover, it has multiple viewing options and search filters.

Anytime and Anywhere

Since all data is stored in the cloud, your staff and clients can access events anytime and anywhere. In addition, our software is fully compatible across all devices and platforms.

PCI-DSS Compliant

Protect yourself and your customer by reducing the risk of debit and credit card data being lost. Accept online payments via Paypal, Stripe and Square – all PCI DSS certified.
High Privacy and Security

Accessible

Our web based application is
Section 508
and 
WCAG 2.1 AA Level
 compliant. Therefore, it is accessible not only for your staff and volunteers, but also your audience and the community with disabilities.
Investor Relations Professionals Love Timely and We Love Them Back!

More than 150,000 organizations around the globe rely on Timely to manage their events more efficiently every day. Sign up today and start this love story you too.

Get Started with Timely Event Software Solutions today

At Timely, we believe events are the cornerstone of experiences. We aim to create technology that brings communities together and turns events into lasting memories. Count on us to help you achieve your event management goals.